Virkalääkärin rikosoikeudellinen tuottamus hoitotyössä
Criminal negligence of an official doctor conducting care work
Keywords:
Doctor, Criminal Negligence, Negligent Offences Against Life and Health, Negligent Violation of Official Duty, Official Doctor
Abstract
The article discusses the criminal negligence of an official doctor when performing care work. It is based on a Bachelor's thesis on the subject, which examines how the criminal negligence of an official doctor is assessed. The research method used is legal dogmatics, which is used to interpret and systemize criminal law provisions. In addition, the method seeks to reformulate legal problems, to show new types of systemic connections and to structure aspects relevant to the solutions of the problem. After the introduction, the article looks at negligence in care work generally. It includes criminal negligence in general, the concept of unactual negligence (neglect of rescue) in brief, as well as the concepts of objective and subjective negligence. It then examines the criminal offences applicable to care work, such as negligent violation of official duty and the provisions relating to criminal offences against life and health, as well as negligence in the application of those criminal offences. The last chapter contains conclusions and a summary. It is worth noting that the criminal liability of an official doctor while conducting care work is considerably broader than that of a private doctor. This is a consequence of the fact that when an official doctor acts negligently, they are also in breach of their official duties. Violations of official duty do not require personal injury, unlike negligent offences against life and health. However, there is little exercise of public authority in care work, thus the stricter responsibility of an official doctor is poorly justified by the legislator.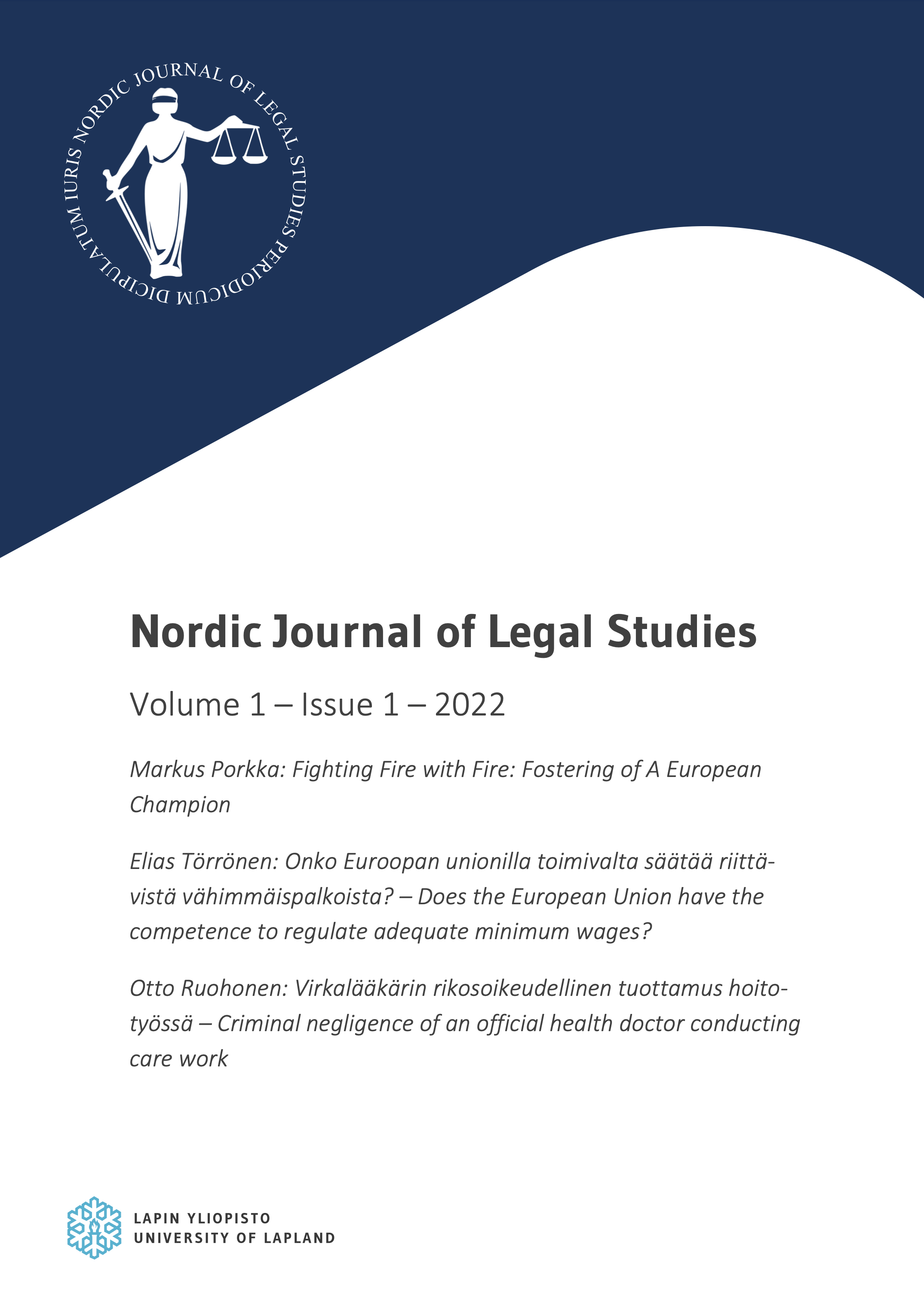 Downloads
Published
05.10.2022 — Updated on 16.10.2022
How to Cite
Ruohonen, O. (2022). Virkalääkärin rikosoikeudellinen tuottamus hoitotyössä: Criminal negligence of an official doctor conducting care work. Nordic Journal of Legal Studies, 1(1), 48–74. https://doi.org/10.51421/njls-2022-0004 (Original work published October 5, 2022)
License
Copyright (c) 2022 Otto Ruohonen
This work is licensed under a Creative Commons Attribution-NonCommercial-NoDerivatives 4.0 International License.